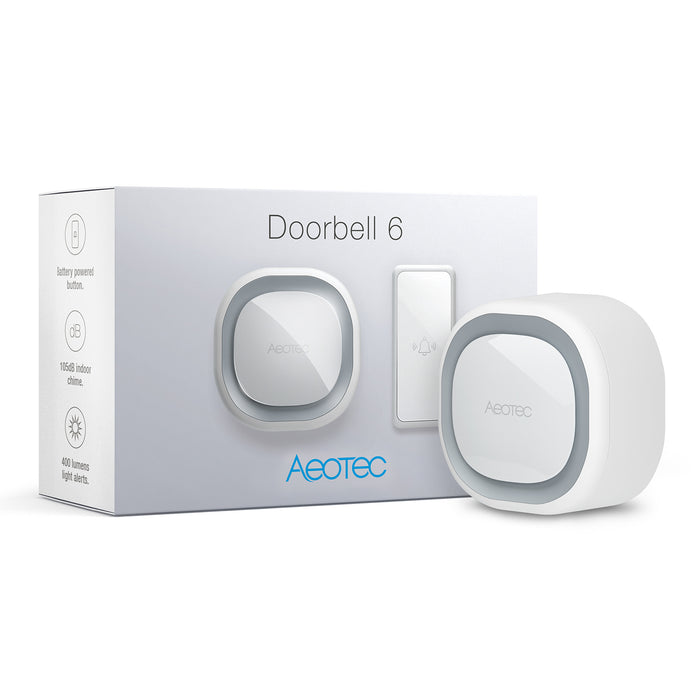 Doorbell 6
Save

14

%
Save

14

%
Original price
$69.99
-
Original price
$69.99
We offer $5 flat-rate shipping for orders under $99, free shipping over $150, with shipments and returns to our East Coast USA warehouse.
Connected home.
Connected doorbell.
Z-Wave makes your home smarter. Doorbell 6 makes your front door smarter. Because it's connected and smart, pressing Doorbell 6's button means more than just hearing an alert to know that someone is at your door.
Activate anything connected.
Even if it's not Z-Wave, as long as it's connected to your smart home system, Doorbell 6 can turn it on. Activate connected cameras, turn on lights so that cameras record clearer images, or activate any other security devices in your home.
Engineering a new doorbell standard.
A simple doorbell seems simple to make. It's not. By the time you make it wireless, power its button with a battery, and then enhance its security with 3 separate layers of encryption, something simple to install and simple to use is suddenly complex to create. Aeotec enhanced Doorbell 6 with everything they learned from past models. And to do that they didn't simply upgrade a few features - they re-engineered everything from the ground up.
Wireless range.
Fused with 2 different wireless technologies, Doorbell 6's button can be installed up to 90 meters / 300 feet from the chime while the chime itself can be 100 meters / 328 feet from your Z-Wave gateway.
Battery life.
While its embedded backup battery lasts up to 4 hours without power, Doorbell 6's wireless button can run up to 2 years before its CR2450 battery needs changing.
27% louder.
As a doorbell or siren, Doorbell 6 is designed to be heard. Outputting alerts at up to 105db, Doorbell 6 is 27% louder than previous models.
Waterproofing.
Designed to weather the elements, Doorbell 6's outdoor button is waterproofed to IP55 standards and can operate in temperatures between -4°F and 104°F / -20°C and 40°C.
Enhanced security.
Built upon Z-Wave Plus, Doorbell 6 is secure. It benefits from Z-Wave S2 which layers 3 different types of wireless security to prevent hacking or interference by intruders.
Multiple buttons.
Doorbell 6 can be used at more than your front door. Able to be paired with multiple outdoor buttons, Doorbell 6 can be installed at 3 separate doors or entranceways.