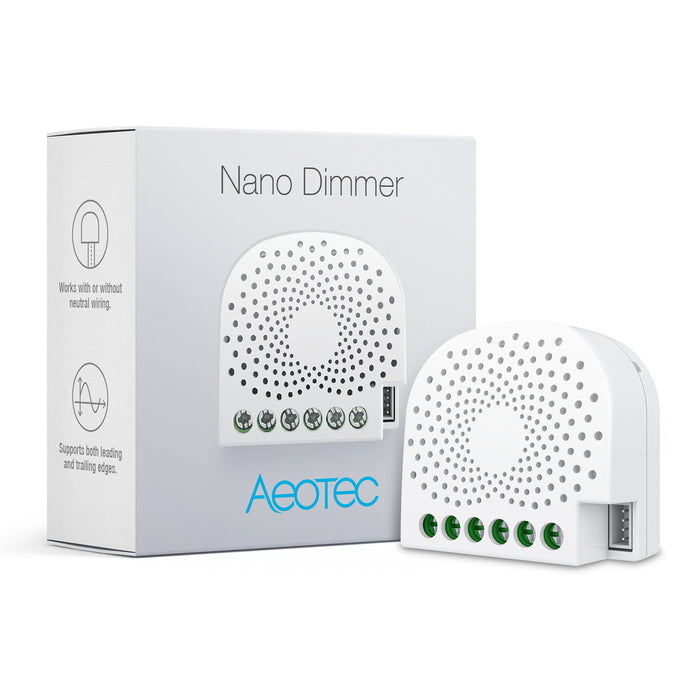 Nano Dimmer
Sold out
Original price
$59.99
-
Original price
$59.99
We offer $5 flat-rate shipping for orders under $99, free shipping over $150, with shipments and returns to our East Coast USA warehouse.
Simply put.
Convert any dimmer switch to Z-Wave. Nano Dimmer wires to an existing dimmer switch and installs invisibly behind it.
With the AEOTEC Nano Dimmer switchable and dimmable electric installations such as lighting or ceiling fans can be integrated into a Z-Wave network. Thus, the connected load can be switched and dimmed both wirelessly via Z-Wave and locally via existing wall switch. The AEOTEC Nano Dimmer adjusts oneself to the connected lighting automatically and is therewith useable with various lighting kind of lighting (LED, Dimmable LED, CFL, Fluorescent, Incandescent, Halogen). Combined with an appropriate Bypass, it can even dim low power LEDs and CFLs that use less than 20 watts. 

The compact radio module (60% smaller than its predecessor Micro Dimmer) is placed in a wall box right behind the normal switch. The switch is no longer directly connected to the load but acts as input device for the AEOTEC insert that is controlling the load. The switch only sends control signal to the insert which controls the load then again. The solution works with all switch design. You can use a momentary or a toggle switch. It's recommended to use wall boxes with 65mm depth. But smaller boxes with only 45mm depth can be used also if there is enough space behind the switch. The available space depends on the size of the traditional switch, the dimensions of the wall box and the amount of additional cabling placed in this box.
Features.
Integrates existing installations (lighting, ceiling fans) into a Z-Wave network
Works with momentary or toggle switches
Wiring: Compatible with 2-wire and 3-wire systems (with and without neutral)
Dimensions:  42.5x40x20 mm
Technical specifications.
Power input: 120 to 240VAC, 50/60Hz.
Rated Current Output: 1.2A maximum
Rated Power Output:
144W maximum (110 volts)
276W maximum (230 volts)

Minimum Power (Watt):
If your load is under the minimum requirement, you may need to install Aeotec's Bypass.

2-wire (no neutral)
Resistance load only: min 20W.

3-wire (with neutral)
Capacitive load: min 11W.
Inductive load: no min / max 100W
Resistance load: min 10W.
Z-Wave Plus, 500 series, Gen5.
FAQs and further resources.
The following resources will help you make an informed decision about purchasing Aeotec's Nano Dimmer.